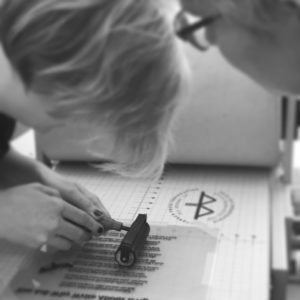 Welcome to our publication resources page, where you'll find instructional texts to support you during the publishing process. Our resource library is continually growing and includes materials to help you on the following kinds of projects:
Work on books.
---
Work on audio projects.
---
Work on video projects.
iMovie and how to use it. Also, view this helpful set of video tutorials.
Adobe Premiere (video editing) and Adobe After Effects (animation/ visual effects) are both available in AAB 137 or in AAB 327. Get Started: Adobe Premiere Tutorials or Adobe After Effects Tutorials.
There are many video editing apps for iPhone/ Android. Here's a short list:
iMovie (standard on iPhone)
Filmic Pro  (iPhone)
Magisto (Android/ iPhone)
Cinefy (iPhone)
Splice  (iPhone)
KineMaster  (Android)
Adobe Premiere Clip  (Android/ iPhone)
In addition to standard video editing apps, there are also a variety of specialized apps:
iMotion: Stop motion animation
VHS Camcorder: Make your video look like a camcorder vid (Android)
---
Work on infographics, broadsides, & posters.
Canva and how to use it.
Piktochart and how to use it.

---
Work on websites & other digital publications.
View the Web Writing Style Guide to learn about the best practices for web writing.
Learn about web accessibility standards and best practices. 
Wordpress and how to use it.
Squarespace and how to use it.
Wix and how to use it.
issuu and how to use it.