Welcome to the SLCC Publication Center!
In this Center, publishing happens. You can
make digital publications, like video essays, multimodal compositions, comics
print publications, like broadsides and pamphlets
bind books–with various bindings possible
make handbuilt book forms
…and more.
We have a perfect binder and document trimmer, a coil binder, a saddle stitch binder, various printers, and an etching press, as well as a suite of iMacs with Adobe and other design software.
View the current semester's events.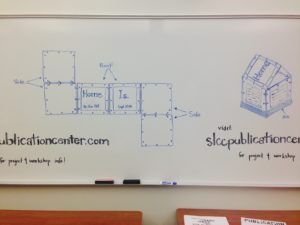 If you have a project in mind and would like help with project planning, contact lisa.bickmore@slcc.edu, charlotte.howe@slcc.edu, kenneth.nelson@slcc.edu.
If you are a faculty member and would like to reserve one of the spaces in the Publication Center for a class session, contact kenneth.nelson@slcc.edu. You can also reach Ken at (801) 957-4253.
Happy publishing!